Ditch the goals for 2021: Invest in Healthy Habits (Part 2)
Gratitude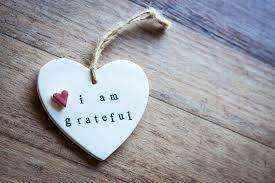 Studies have shown that practicing gratitude helps people feel more positive emotions, relish good experiences, improve their health,deal with adversity, and build strong relationships. By taking less than 5 minutes a day to reflect on the things you are grateful for, you promote a positive mood, hope, and resilience. You can do this in many ways. Find a way that feels best for you. Use an agenda or journal and write down things in your day that made you feel good or grateful. Or write them down on a piece of paper, throw it into a jar and watch how your gratitude grows each day until you are literally overflowing with gratitude. Get the whole family involved, go around the dinner table, listing one thing you are each grateful for. The trick here is to not overthink it. Gratitude can be found in the smallest of things if we are willing to look; gratitude for your arms that allow you to hug your loved ones, gratitude for the warm bed you woke in, gratitude for the breath you can take with ease.
Sleep
On average, adults need 7-9 hours of good quality sleep. The amount and quality of sleep play a big role in your health, especially if you are suffering from PTSD, anxiety, depression, or other health issues.  Getting enough good quality sleep can help your body heal, boost your immune system, improve memory, and enhance your mood. Good sleep is just part of the equation; how you get yourself to sleep and the things you do around sleep have a huge impact on your quality of sleep. Establishing positive sleep hygiene practices will enhance the quality and length of your sleep. Your actions 1-2 hours before bed have an impact on your sleep. Avoiding doing stressful tasks like examining your finances, eliminating screen time before bed, ensuring your bed is just for sleeping or sexual activity, and giving yourself enough time to get the amount of sleep you need, are all factors that will help with the quality of your sleep. If you have PTSD and find yourself struggling with nightmares, explore practical techniques for recovering from nightmares.  
Hydration 
Did you know the body is 70 to 80 percent water? All physiological processes in the cells, nerves, organs, and other structures are dependent upon a good supply of water. Drinking fluids is crucial to staying healthy and maintaining the function of every system in your body, including your muscles, heart, and brain. Drinking enough fluids daily is important in sustaining your body's regular functioning. Even more so, proper hydration is essential when you experience additional stress, such as recovering from intense physical activity or healing from trauma. Just like your car needs oil for it to run, your body needs to water to operate well. Sure, the gas you put in your car or the food you put in your body is important. However, without oil, in the case of a human body, water, your engine (body/mind) will literally seize up. The type of oil you put in your car will also impact how well it works. Hydrating with water or herbal teas will impact your body's and mind's ability to function much differently than if you are hydrating yourself with pop and caffeine. Try carrying a bottle filled with water wherever you go. Set a reminder on your phone to have some water. Ensure you have some water before every meal. 
Movement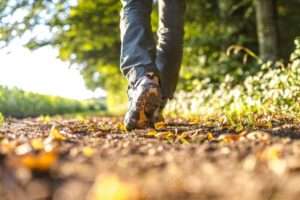 There is no need to get worried that you will need to dust off your leg warmers and bust out your old jazzercise VHS. Movement can  be anything from a high-intensity exercise class to going outside for a walk. Just get your body in motion! Not only is movement good for your physical body,  research suggests exercise, which improves cardiorespiratory fitness, is an effective treatment for depression, anxiety, and schizophrenia. Remember the goal here is not to shed pounds and build muscle. In fact, there is no goal at all; what you are doing is getting into the habit of moving your body. The simple act of going for a walk outside can help your body release those happy hormones known as endorphins. It is also a great way to break up the day and slow you down or build you up. You cannot intentionally move your body without needing to breathe. So, if nothing else, movement can help you take that long deep breath that will encourage you to relax and reset.
Stillness
It seems contradictory to movement, but I am referring to the stillness of the mind. How often do we get a chance to sit with ourselves? With the ease and accessibility of social media, television, music, podcasts, facetime, and other modern-day technology, we have lost the art of sitting in nothingness. Spending time in silence, whether it be in meditation, walking in nature, or simply sitting in our living room without any sound, is a great way to connect with ourselves. Why is this so important? When we connect with ourselves, we become aware of our thoughts, feelings, and sensations. Then it is easier for us to consciously choose how we will act or react in our lives. The stillness that leads to inner knowing can help us show up in a more meaningful way. Give it a try, find a few minutes each day where you allow yourself to sit in the stillness. Consider having a journal where you can write down the thoughts and emotions that come up.  
For more helpful resources and mental health programs visit us a https://ptsdrecovery.ca/ 
Published on February 8, 2021
Paulina Sienko, BSW