Exposure Therapy: The Gold Standard For PTSD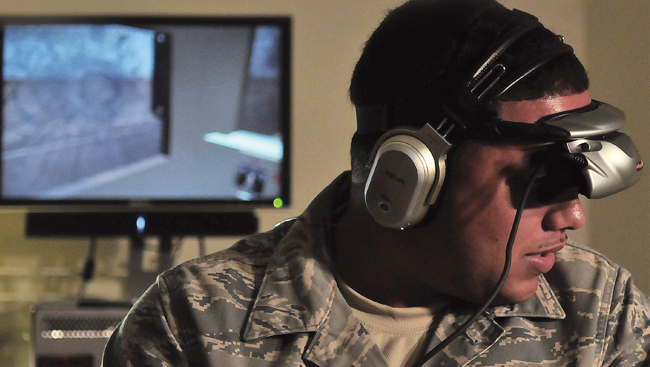 The team at PTSDrecovery specializes in the treatment of Post Traumatic Stress Disorder (PTSD) as well as all of its associated therapeutic treatment and coping techniques. We believe in making information and resources as accessible as possible, because of how they may help community members and their loved ones. This article explores exposure therapy, what it is, how it works, and how it relates to PTSD. 
What Is Exposure Therapy? 
Exposure therapy is a form of psychological treatment designed to help people confront and overcome their fears. One of the most common behaviours that accompanies fear is avoidance. While avoiding scary or frightening activities, situations or events might appease your fear in the short term; it stands to make things progressively worse in the long run.
Exposure therapy is an excellent way to break the pattern of avoidance and restore quality of life!
Your psychologist can help you determine which form of exposure therapy is best for you, including:
In vivo exposure:

facing your fears head-on. This can apply to situations, environments, and objects.

Imaginal exposure:

Vividly recalling the feared situation or activity. Often used with those suffering from Post Traumatic Stress Disorder to recall their traumatic experience in order to reduce feelings of fear and process emotions.

Interoceptive exposure:

Initiating physical sensations that are harmless, yet feared. For example, someone with Panic Disorder might be instructed to run in place in order to make his or her heart speed up, and therefore learn that this sensation is not dangerous.
How Does it Work?
Your psychologist works to create a safe environment in which you can be "exposed" to that which you fear and actively avoid. Controlled exposure to your fears regarding objects, activities, situations, or memories in a safe environment helps you learn to overcome your fear and limit your tendency for avoidance behaviours. Exposure therapy has shown to be effective at treating a range of conditions, including:
Phobias

Panic Disorder

Social Anxiety Disorder

Obsessive-Compulsive Disorder (OCD)

Post Traumatic Stress Disorder (PTSD)

Generalized Anxiety Disorder (GAD)
What Is Avoidance Behavior?
What is avoidance and what does it look like? Avoidance is a coping mechanism where, either consciously or unconsciously, you refrain from specific situations, locations, or people and can even extend to specific smells and sounds.
People tend to avoid these things because of the emotional or psychological attachments that have been associated with them. If you had a terrible accident on the highway, you know that driving past that location will bring back those painful, frightening memories. 
Another example involves veterans suffering from PTSD. It is well documented that they struggle when visiting grocery stores. This is because they have been trained and conditioned to avoid narrow, confined spaces with blind spots. 
How Exposure Therapy Helps Those With PTSD
Exposure therapy has been thoroughly studied and referred to as the gold standard for PTSD patients, helping them process emotions and overcome their fears. The goal of exposure therapy is to actively confront the things that a person fears. By experiencing feared situations, thoughts, and emotions in a controlled setting, a person can learn to separate feelings of fear and anxiety from perceived danger. Essentially, what is referred to as 'emotional processing', they get to experience first-hand that their emotions are real, but they are not in any harm.
Persons struggling with PTSD will engage in avoidance behaviour, which will worsen over time if left unaddressed. In turn, this behaviour will continue to negatively impact their quality of life and cause them serious distress.
How To Perform Exposure Therapy At Home
Learn as much about PTSD, or your condition, as possible. Learn about its symptoms, why your disorder occurs, and where behaviour originates from. It can be incredibly empowering and make things easily recognizable.

Make a list of your anxiety and PTSD triggers. Start slow and take your time working your way up with very gradual exposures thinking about your photos of triggers, or spending brief moments in triggering locations.

Find an accountability partner. Telling someone your goals helps keep you on track, and they can be there to support you in situations you find very challenging.

Learn relaxation strategies – The goal is to expose yourself to fear and remain in control long enough to let your fear fade. Avoidance isn't an option, so learn to control your breathing, occupy your mind with structured thinking, repeating mantras that help subside anxious feelings.
The Value of Working With a Professional
Professional therapists understand the nuances of exposure therapy, as well as PTSD. They can guide you through the process in a much more structured manner, helping you progress in a more efficient and safe way. 
Professional Therapists operate in controlled settings. This means that if a session gets too intense, or evokes too much of an emotional reaction, your therapist is right there to help calm you down.
On the other hand, they can also ensure you are making progress by not allowing you to quit on yourself. Having a rational voice in the room is an excellent way to break through perceived barriers and achieve things you thought were impossible. 
Traumatic Stress Recovery Programs Available in Kelowna, BC
If you have experienced traumatic events or recognize the symptoms of PTSD, you may be a great candidate for the Traumatic Stress Recovery Programs offered at PTSDrecovery. From pre-admission to post-treatment support, our team of specialists has the knowledge and resources that can help you manage and treat your PTSD. 
If you have questions about our program offerings or would like help finding helpful resources, reach out to the team at PTSDrecovery today. Call our office to speak with a representative from our team or schedule an appointment online.