Fattening our Curves in Isolation?
I appreciate and encourage the rest of us to do our part in staying home and continue social distancing as much as possible to make their jobs easier and bring order to this situation sooner.
We've all seen the memes, right? Hopefully had a giggle and maybe shared the humour with others.
Aside from the endless toilet paper jokes, my favourites have been:
"I just ate all my quarantine snacks in one night. Now what?"
"The problem with flattening the curve is that I'm fattening my curves."
"So, after this quarantine…will the producers of my 600-pound life just find me…or do I call them…how does this work?"
Funny, but not funny, right?
Nor is the fact that an expanding waistline leads to a shrinking brain. Neuroimaging studies have shown that obesity is related to smaller brain volumes, including in the areas of the brain related to thinking skills like memory and executive functioning – attention span, time management, working memory, prioritizing tasks, decision making and problem-solving.
Obesity appears to compromise cognition in adults as well as children, however midlife obesity also increases the risk for dementia, type 2 diabetes, and hypertension. Alzheimer's has been coined type 3 diabetes. Are we seeing the connection?
The most common comorbities in the recent pandemic in China were hypertension and type 2 diabetes – both generally related to obesity.
(Comorbidity and its impact on 1590 patients with Covid-19 in China: A Nationwide Analysis)
And then there is this statement;
"The coronavirus pandemic should give the food industry increased impetus to make healthier products, according to experts, after an NHS audit in the UK revealed over three quarters (76.5%) of critically ill coronavirus patients are overweight." (read full article)
So, what can we do about our health in the midst of this crisis? I would prefer to not put the impetus on the government or the food industry, as suggested above, but rather on us as consumers. The priority should not be making more "healthier" food products, but rather making choices for better quality, more real food, in our own kitchens. Yet when we are cooped up and bored, lonely, stressed, (insert almost any emotion here), we tend to reach for junk food, not a healthy balanced meal.
So how do we win the battle of the bulge and support our brain health during this Covid19 isolation?
If there are Cadbury mini eggs in the house (thanks to my 19-year-old) we all know they are going to be eaten. When we cancelled our annual family vacation a couple weeks ago, we polished off a Costco sized bag of peanut MnMs in 3 days. Yikes! Those kettle chips from games night were polished off too – and that's all ok once in a while, and then we get back on track. The key is getting back on track.
As you are grocery shopping in the coming weeks don't add things to your (physical or virtual) cart that you know aren't supporting your physical and mental health. I don't have a quick fix, XYZ meal plan, or one size fits all approach. You MUST be your own diet detective to understand your individual needs that fits your lifestyle.
Here are some tips from Michael Pollen that apply to all of us:
Don't eat anything your great grandmother wouldn't recognize as food. When you pick up that box of portable yogurt tubes, or eat something with 15 ingredients you can't pronounce, ask yourself, "What are those things doing there?"
Don't eat anything with more than five ingredients, or ingredients you can't pronounce.
Stay out of the middle of the supermarket; shop on the perimeter of the store. Real food tends to be on the outer edge of the store near the loading docks, where it can be replaced with fresh foods when it goes bad.
Don't eat anything that won't eventually rot. There are exceptions – like honey – but as a rule, things like Twinkies and Oreos that never go bad really aren't food.
It is not just what you eat but how you eat. Always leave the table a little hungry. Many cultures have rules that you stop eating before you are full. In Japan, they say eat until you are four-fifths full. Islamic culture has a similar rule, and in German culture they say, "Tie off the sack before it's full".
Families traditionally ate together, around a table and not a TV, at regular mealtimes. It's a good tradition. Enjoy meals with the people you love when possible.
Don't buy food where you buy your gasoline. In the U.S., 20% of food is eaten in the car.
I'm going to add my own:
Fill half your plate with veggies.
Add protein and fat to every meal.
Increase your healthy fats – possibly drastically if following a low-fat diet.
Avoid sugar as much as possible.
Read nutrition labels for hidden sugars.
Avoid refined carbohydrates.
Avoid the diet foods.
Carbs are a side dish, not a main dish.
Stick with wet carbs: sweet potato or potato, fruits, veggies, etc.
Reduce/avoid dry carbs: cereal, crackers, pasta, etc.
Feeling limited or out of ideas for healthy meals? Check out the chart below and then fill your cart with some of these foods. I've given some examples, but you can substitute any nutrient dense, whole food into each category, then mix and match. The more real food we eat, the less our body will crave junk food! If you take one item from each column, combine them and consider that a meal, you have 10,000 meal options!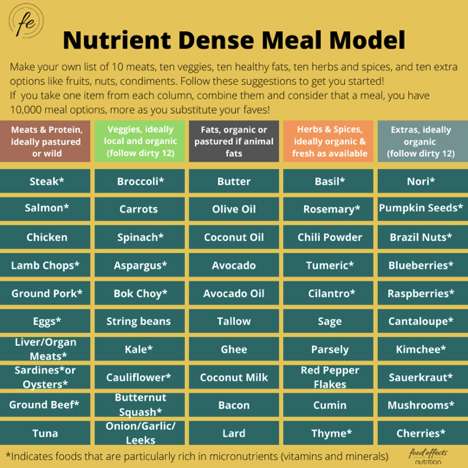 Adapted from Robb Wolf's – The Food Matrix
Adding more than one food from each of those categories is totally fine – keep it simple if this is new to you but then get creative! You can start with all options in one pan or on the grill for less dishes or make a full gourmet meal out of this – this is a merely a template to get you cooking a variety of real food from basic ingredients. Most importantly, have fun!
Wishing you all health and happiness as we navigate these coming weeks and months together (but apart).
Brigitta Beer is a Registered Holistic Nutritionist and Certified Blood analyst in Kelowna, BC.
Brigitta is a Holistic Nutritionist for Diversified's Traumatic Stress Recovery Program and Anxiety & Depression Program.
Brigitta Beer, Registered Holistic Nutritionist
Diversified Rehabilitation Group
PTSDrecovery.ca