First Responders: Occupational Health, Critical Stress and Wellbeing.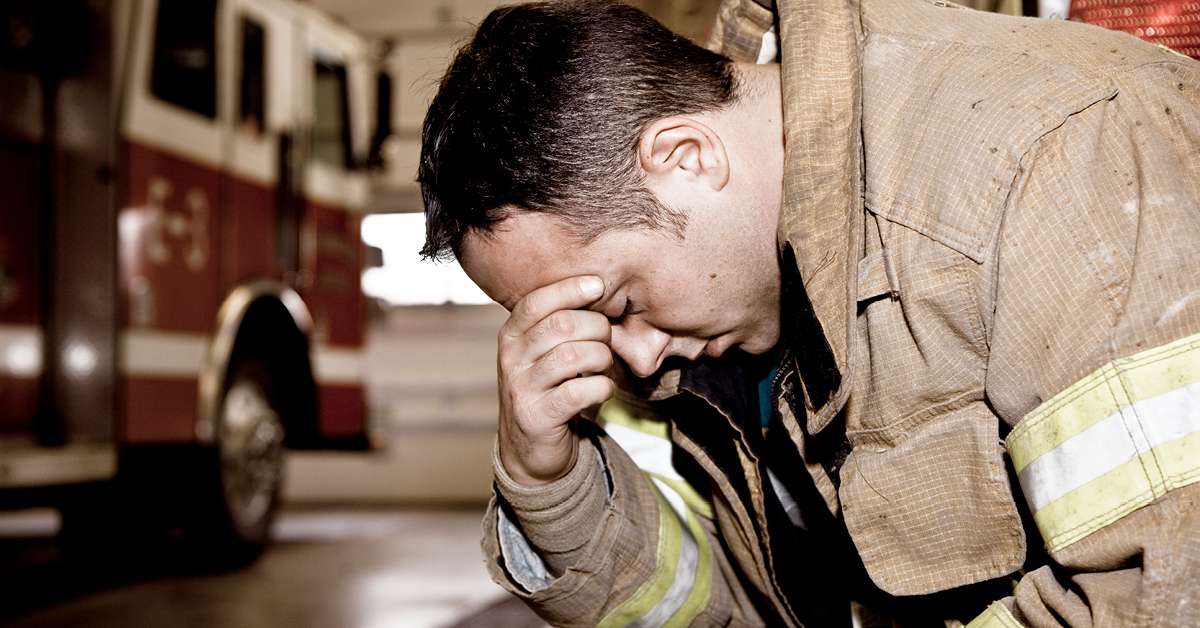 Can We Mitigate the Long-Term Impact of Stress and PTSD?
Critical stress and the wellbeing of first responders has been broadly researched and scrutinized over the past few years, brought more to light due to COVID-19. It is widely accepted that first responders are subjected to immense stress not only daily, but throughout the length of their service.
In 1829, Sir Robert Peel established the Metropolitan Police Force in London, England, and introduced the Nine Principles of Policing. These principles were the backbone for modern day policies and procedures ranging from the basic mission for which the police exist, to preserving public favor and not catering to the public opinion, but by constantly demonstrating absolute impartial service to the law. Individuals joined the Police Service to uphold those principles, which were respected and appreciated by the public.
However, in recent years, public sentiment towards the police has become increasingly worse. Perhaps this isn't without good reason? Not a day goes by where there aren't images and or social media footage of police officers being highlighted in a negative way, and in some incidents, this has quite rightly resulted in more serious allegations of misconduct being investigated. However, this has also now led to members of the public attempting to goad police officers either by questioning their authority and or just shoving a smartphone in their face to provoke a reaction. This negative culture has ultimately had a detrimental impact on those individuals that have taken the oath to protect life and property. Now more than ever, police officers and first responders across all disciplines need additional support not only when it comes to their general health and wellbeing, but also ways in which to help mitigate the impact of stress and PTSD. However, when addressing the health and wellbeing of police officers there are obstacles to overcome, none more so than the stigma attached to admitting to suffering from stress and or anxiety.
Now more than ever, police officers and first responders across all disciplines need additional support not only when it comes to their general health and wellbeing, but also ways in which to help mitigate the impact of stress and PTSD. However, when addressing the health and wellbeing of police officers there are obstacles to overcome, none more so than the stigma attached to admitting to suffering from stress and or anxiety.
In 2016, 575 officers in a Crisis Intervention Team (CIT) training were surveyed regarding perceptions of, and responses to, stressful and traumatic events. The results indicated that many officers had experienced traumatic events, and / or know a fellow officer who had experienced trauma in the line of duty. These officers were reluctant to disclose their experiences to their immediate supervisors/colleagues or department heads. Furthermore, results indicated that many officers were hesitant to seek professional help and support, suggesting such barriers as pervasive "negative" stigma. In order to overcome that stigma, educating police officers and first responders regarding stress and PTSD is of utmost importance. This has already started with a simple recognition of the word "disorder," which suggests physical or mental problems being replaced with a more acceptable definition suggesting "injury" (PTSI). It is expected that police officers and first responders will be subjected to stress and trauma at work; but how does that manifest outside of work, especially at home with family and loved ones. Lack of understanding at home and the pressure to talk about their day can result in additional stress. Fortunately, there are organizations in place that specifically help those struggling with anxiety and stress. Diversified Rehabilitation (https://ptsdrecovery.ca) in Kelowna, British Columbia has been extremely successful in helping police officers and first responders. They offer a five-week residential rehabilitation program focused on traumatic stress recovery (TSRP). Derek Sienko, who is the CEO and Founder of Diversified said: "Effective healing of post-traumatic injuries (PSI) should involve treating all aspects of an individual. Evidence-based treatment, a holistic and collaborative approach, as well as a small group size of cohesive cohorts comprised of first responders enhance the healing and deliver optimal results." Also, with advances in technology around body worn sensors, perhaps the answer lies somewhere between daily health monitoring and support agencies such as Diversified. The University of British Columbia through their Survive & Thrive Applied Research facility have been working with various organizations exploring the use of body worn sensors for military applications. They are now exploring a potential research program specifically designed around wearable sensors and daily monitoring of police officers. The research project would take the form of a design of experiment program taking a cross section of officers on a shift and using anonymized data to measure stress, health and wellbeing and potential injury throughout the course of their duty over a set number of weeks. The objective would be to then introduce stress intervention methods, while on rest days, prior to the officers returning to work for their next shift rotation. As Dr. Keith Culver, Director of UBC's Survive and Thrive Applied Research initiative puts it, "We are now at last on the cusp of advancing from optimistic dream to realistic practice the early 21st century slogan that 'every soldier will be a sensor, and every soldier will be sensed.'" Soldiers, wildfire fighters, police and remote workers are all on the cusp of being both creators and objects in unprecedentedly rich real-time situational awareness.
Similarly, Dr. Greg Kratzig, who is the Director Research and Strategic Partnerships for the Royal Canadian Mounted Police (RCMP) has been working closely with the University of Regina on a longitudinal study of operational stress injuries for the RCMP. The study, which is a global first, could potentially be the next step in supporting the mental health of those in the police service. One of the goals is to develop a set of tools that help officers identify and manage stress early on, thus allowing them to access support quicker resulting in faster recovery. Part of that study also includes the use of wearable sensors. Again, this type of research demonstrates that police departments along with other organizations are now recognizing the importance of the health and wellbeing of our first responders.
Similar to how Diversified uses stress mitigation methods throughout their TSRP, other disciplines have now started to introduce such things as nutrition and exercise. In a recent open house at Diversified, Steve Farina, who is the Vice President of the British Columbia Firefighters Association said: "The International Association of Fire Fighters, in cooperation with the International Association of Fire Chiefs have recognized that fitness physically, mentally, and emotionally requires an effective wellness program available to recruits, active fire fighters, and retirees. The Fire Service Joint Labor Management Wellness/Fitness Initiative is an overall wellness/fitness system that is holistic, positive, rehabilitating and educational." For further details, see https://www.iaff.org/wellness-fitness/
In addition to wearable sensors, it is suggested that cortisol could also be measured in saliva using a rapid saliva test. During times of stress, your body can release cortisol after releasing its "fight or flight" hormones, such as adrenaline, so you continue to stay on high alert. Gemina Labs based in Vancouver has developed and patented transformative biochemistry that powers next generation testing platforms for detecting a wide range of pathogens in saliva. Their tests are rapid, accurate, and easily self-administered. With that said, rapid saliva tests could become an important part of overall officer stress management in the future. Furthermore, rapid saliva tests could be adopted as part of an officers training program at point of recruitment.
The main objective is to try and mitigate the impact of stress and long-term PTSD through daily monitoring of an individual throughout the course of their duty. However, in addition to measuring stress, and overall wellbeing, there are other uses of wearable sensors such as officer safety. There may be several barriers and or objections to the introduction of wearable sensors for daily monitoring, like how there was with body worn cameras. But there is a strong argument for adopting wearable sensors for officer safety. Certain thresholds of an individual's vital signs could be predetermined for each sensor. If these thresholds are crossed, such as a critical injury or an officer being incapacitated and unable to call for help, information could be sent immediately to the department's dispatch center. Furthermore, that valuable data could be used for immediate triage prior to arrival at a medical center/hospital. Just as we have seen with the broad adoption of body worn cameras within police departments, wearable sensors could become another tool to help officers.
Police recruitment and retention is at an all-time low. The use of wearable sensors for the reasons described could not only help with health, wellness, and safety, but it could also demonstrate the value and importance police departments place in retaining officers and helping them to have a long and healthy career. Police departments spend on average $100,000 to train each police officer, perhaps we should be looking at ways in which we can protect and support that investment?
Article written by Phil Lancaster